CSIR-CLRI organised its One Week One Lab (OWOL) events on the theme 'Celebrating Leather', from May 1 to 6, at Kolkata, Ladakh and Chennai. CSIR-CLRI endeavoured to recreate the magic moments of the leather fair and leather products' show held during the 1960s, now at CSIR-CLRI campus, Chennai as part of its public roadshow, held on May 5 and 6.
Here are some of the highlights from the show in Chennai.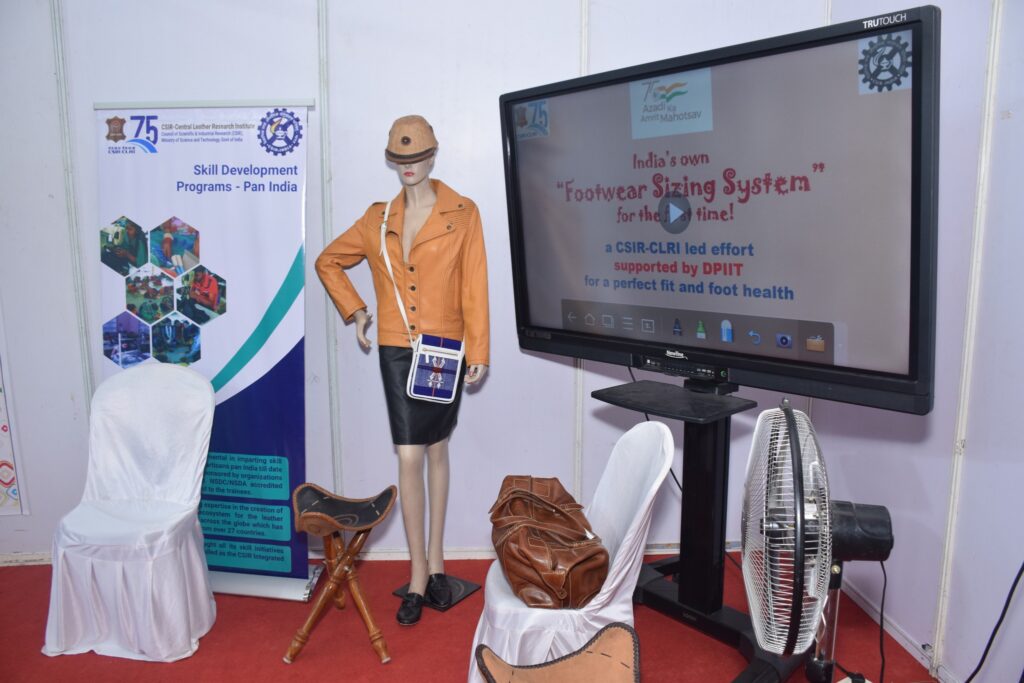 Leather Tech Expo: Dr.Deepak Siwach IPS, Deputy Commissioner of Police, St.Thomas Mount, and K.Parthasarathy, Former Scientist and Head, Leather Process Technology – CSIR-CLRI, inaugurated the expo on May 5. Twenty stalls were put up by alumni and technology partners of the institute with 100% genuine leathers for sale. Over 3000 people visited the entrepreneur stalls on the first day of the roadshow. Business was heavy with two of 13 stalls running out of products by noon.
Theme Pavilion: This pavilion was inaugurated by Dr.Ganga Radhakrishnan, Former Scientist and Head – Polymer Science and Technology, and Dr.Mary Babu, Former Scientist and Head – Biomaterials Lab (CSIR-CLRI) on May 5. CSIR-CLRI exhibited its legacy at this pavilion showcasing the leather value chain from animal farming, leather as byproducts of meat industry, processing technology, distribution of leather and product clusters across the country, artisanal products, exotic products, leather and other natural material combination products, Indian footwear sizing system, Gait analysis, and the uniqueness of leather as against synthetics. Over 3050 people visited the pavilion including students from schools and colleges.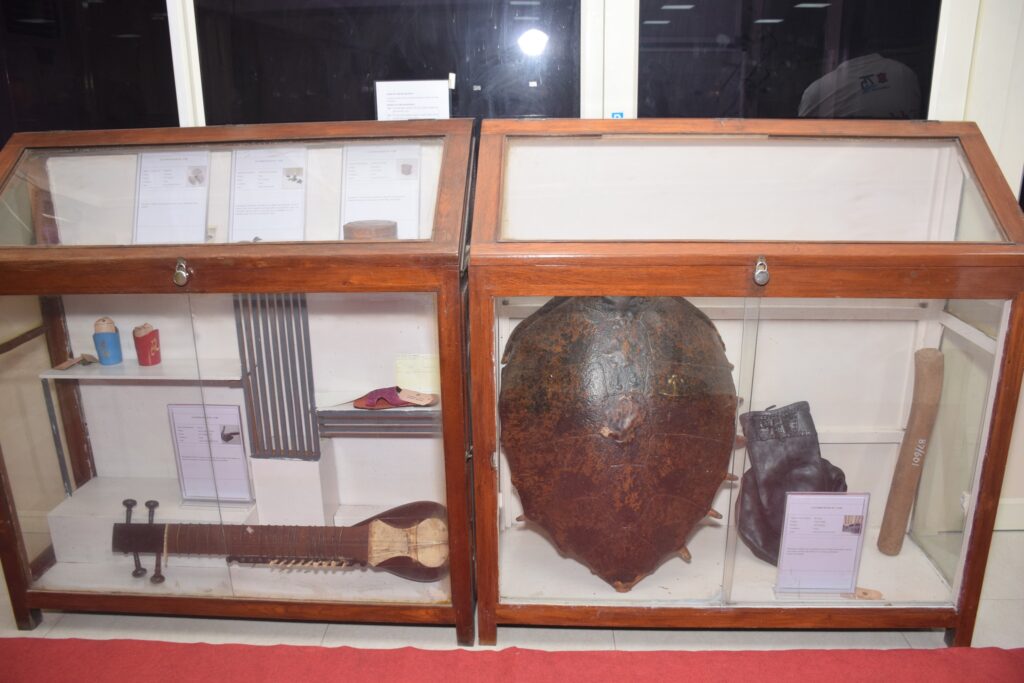 Leather Museum: R.Selvam, IAS, Executive Director – Council for Leather Exports, inaugurated the Leather Museum in the presence of family members of Mr.Nagappan, a leather entrepreneur who initiated the thought process of setting up a museum for leather at CLRI. The museum houses a few antique leather products including a 16th century container of Italian origin, 19th century cutlery case and sewing box of European origin. The leather mounted European origin cutlery case is designed to hold forks and knives in a stylish manner, which is mounted with leather and decorated in stamped designs in golden colour making it more elegant. This was used in the early 1800s. The 16th century container of Italian origin is mounted on leather and was used to store gunpowder. This container was made from dark coloured leather with punched design of animal motifs. The leather sewing box is carved and covered in fine leather and designed with drawers, compartments and brass fittings in a graceful way. This too is of European origin and dates back to 1846. R.Selvam recommended CSIR-CLRI to have a separate building to house the Leather Museum permanently at the campus.
Crosslinx – 2023: This international leather conference by the students was inaugurated on May 4 in the presence of the chief guest K.Srinivasan, Managing Director – M/s Prime International India Pvt. Ltd. Dr.K.J.Sreeram, Director – CSIR-CLRI presided over the program and Dr.R.Jayavel, Dean AC Tech attended as guest of honour. More than eight countries participated in the conference.
Leather Product Show: Leather Products Show with ramp walks by budding models showcasing the leather articles was enthusing moments for the audience. The show was inaugurated by the celebrities at 5.30 pm on 6.5.2023.
Around 5500 visitors gained varied experiences through these exhibitions, such as differentiating genuine leather from the synthetic leather, antique products, educational and business opportunities in the field of leather. They also purchased various leather bags, belts, etc., at nominal cost.